20 Great Things In Delhi
---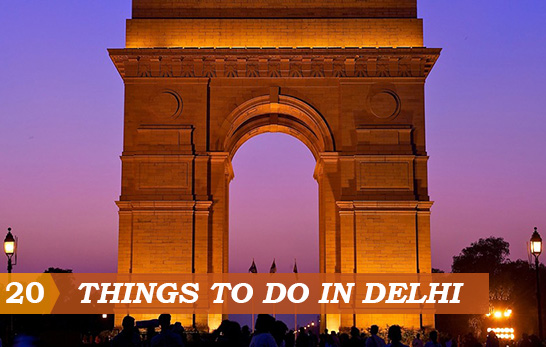 Delhi is the capital and Union Territory of India. It is the mixture of history, culture, cuisine, art, craft and modern architecture. Delhi keeps its visitors engaged with countless activities. It may not be an easy city at first glance for some people, but give it some time and see yourself mixed in the culture of the city. Though there are various activities to do in Delhi, there are 20 great things in Delhi which you should try on your Indian trip.
1. Delhi's Street Food
Move into Old Delhi to try some of the best street food of the city. Chaat Papri (fried wafers filled with potatoes, chickpeas, yoghurt and chilli) golgappas (fried hollow made of dough and filled with chickpeas and spicy potatoes) are the must-try street foods. Along with this, parathas (fried bread with potato fillings), kebabs and jalebis are also the mouth-watering foods.
2. Visit Humayun's Tomb
Humayun or Nasir-ud-Din Muhammad was the second ruler of the Mughal Empire. His monument within Delhi denotes the blend of Persian technique including regional craftsmanship. The monument is surrounded by symmetrical Mughal Gardens. Take photos, admire the architecture, stroll here or do whatever you want to. It is a look-alike of the Taj Mahal and is also UNESCO protected site but with a higher entry fee.
3. Explore The Red Fort
The red sandstone building also belongs to the Mughal Empire. Learn about the history of the place and imagine the last days of Mughal empire and British Era. If possible, try to catch the Republic Day celebrations when the Prime Minister hoists the tricolour from its buildings. Furthermore, move through the Meena Bazaar, it was the exclusive shopping domain of the ladies of Mughal court.
4. Listen to The Qawwali
You should listen to the qawwalis (devotional music) at the dargah of Nizamuddin Auliya. It is the Sufism's most revered sites and try to visit on Thursdays when the resounding renditions of faith are high. Amir Khusro, his spiritual master is also buried close to him. He is a very known poet from the 13th century.
5. City Tour On A Bus
Take a city tour on a bus for fares as low as Rs. 500 a day. They ply daily with regular intervals of 30 to 45 minutes, leaving enough time for visitors to explore city's history and heritage. You can choose from half-day, one-day or two-day tours depending on how much time you have.
6. Celebrate Shopping In Delhi
Get yourself engaged in shopping. Delhi's government emporia in Baba Kharak Singh Marg close to Connaught Palace is the best place for Indian craft. Hit the Janpath and Sarojini Nagar market for bargains. Also, visit Dilli Haat for more Indian craft shopping.
7. Lose yourself in Old Delhi
Narrow bazaars of Old Delhi will leave you lost and confused. But don't panic, it will feel like you have wandered somewhere medieval. Visit the home of Urdu Poet, Mirza Ghalib's haveli, Jama Masjid, India's largest mosque and another Mughal architecture, Khari Baoli, Asia's largest spice market. Also, visit the cluster of well-preserved and colourfully painted nine Jain Havelis.
8. Explore the sprawling Sunder Nursery
Visit one of the best and memorable places of your journey - The Sunder Nursery. The 90-acre park is beautifully restored with Mughal monuments, water bodies, hundreds of species of trees, butterflies and birds. People from nearby Nizamuddin Basti performs a couple of amphitheatres which is one of its kind.
9. Watch the Changing of the Guard
Changing of the Guard in relatively unknown to many tourists, but you can attend the ceremony at Rashtrapati Bhavan's forecourt on Saturdays. The President's bodyguard put on a display for the crowd of no more than 200 to the imposing edifice of the Presidential Palace.
10. Visit Indira Gandhi's former home
Visit the home of the former Prime Minister of India, Indira Gandhi Smriti. She was shot dead by one of her bodyguards at her home in 1984. Also, get to know about one of India's most powerful Prime Minister and her dynasty.
11. People watch at Lodhi Gardens
Roam nearby Lodhi Gardens on a Sunday evening, the precise spot for people viewing. Other times, carry a barbecue case, rest with a book, catch a photo trip, either set its jogging tracks on healthy practice.
12. Wander the Hauz Khas district
Explore the district of Hauz Khas, with its disintegrating Mughal monuments and fascinating artwork, archaic and fashion boutiques. Appreciate a sharp taste or comfortable fodder in any of the eateries topping the lake. Or just get a coffee over the discussion at Kunzum Travel Cafe.
13. Feast on the best of Indian Fare
Feed on the appetising masala dosa on the Janpath. In addition, complete your supper with a gratifying south Indian coffee. For north Indian charge, look none farther than the bunch of Mughlai restaurants at Pandora Market; Pindi and Gulati, notably.
14. Observe the capital from an unusual perspective
Utilize the map from the William Dalrymple's City of Djinns toward a diversified plan to investigate the centre. Alternately, grasp Madhulika Liddle's The Eighth Guest and Other Muzaffar Jang Mysteries including traipsing neighbouring Shahjahanabad within the footprints regarding her bold Mughal-era detective.
15. Put your dancing shoes on
Catch a dancing drill in the Delhi Dance Academy. Their two-hour Namaste India Dance Workshop holds an enjoyable approach to discover Bollywood, Bhangra, and Garba, any traditional customs. The charge covers outfit hire including a video regarding the choreographed execution.
16. Take a bite at the Khan Market
Shop average-class Delhiite-manner toward laidback Khan Market, perusing its bookshops plus stretching out toward a chat at Café Turtle, fed with coffee including gooey cake. Request a pulsation on Big Chill either sushi at Yum Yum Cha, or walk after to Perch, the city's leading wine and coffee bistro.
17. Use time-out at Qutb Minar
Relish a voyage out toward calm Qutb Minar, including its towering minaret matching an elegant mill furnace. March nearby the mania pouring with buildings riding various eras; concerning eternal curiosity through history, construction and calligraphy buffs.
18. Cherish India's largest mosque
Turn up toward the Jama Masjid, ascend the mosque's tower, later appreciate a traditional non-veg fodder at nearby culinary conventions Karim's or Al-Jawahar, renowned toward their roasted meat kebabs.
19. Get familiarised with Indian art
Stay flabbergasted with the abundance of Indian artwork at the National Museum. Propose yourself toward avant-garde artisans and their production, establishments combined, at the National Gallery of Modern Art, not excessively distance apart.
20. Skip the chaos at Gandhi's tomb
Tour Gandhi's modest grave within its peaceful gardens, furthermore absorb into the environment – nowhere else within Delhi stands as amicable as here.