Accommodation In India
---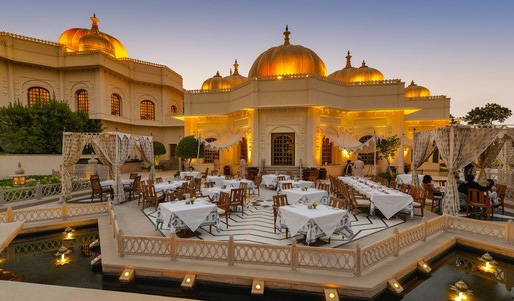 Staying in Indian hotels can be fun and pleasure whether you stay at a world-class luxury hotel or in just a local hostel. For average accommodations, you can expect to pay significantly less than at a comparable hotel in America. This will definitely bring a pleasant surprise to the bill. Whether a room has plush carpets and chairs or a simple bed and table, most tend to be clean and neat.
When pricing accommodations, always ask what they are offering. Properties are assigned price categories based on the rate for a standard double room in the high season, which in most of India is approximately October through March, peaking at Christmas and New Year's when even higher rates apply. When you book a room at a hotel, however (especially an expensive hotel), ask for their best rate and push them to include breakfast and a station or airport pickup. Be a hard bargainer; consider asking them to knock the rate down further, even after they have given you a discount. You can always shop around and come back.
Reserving Indian Hotels
Try to secure all room reservations before arrival, especially during peak season and in the major cities and popular tourist destinations such as Mumbai, Delhi, Agra, and Goa. But give yourself a little leeway to make plans on arrival, especially if you have more than two weeks. In the off-season and in smaller cities it's often fairly easy to change plans at the last minute. This is especially true during monsoon season (late June through August) when many hotels have vacancies and deep discounts. Indians vacation during school holidays in April, May, and early June; for a few days in October or November (for Diwali, or, in eastern India, Durga Puja); and for 10 days between Christmas and the New Year. Reservations in Indian hotels are extra-difficult to secure during these times.
Most hotels and other lodgings require you to give your credit card details before they will confirm your reservation. If you don't feel comfortable using the Internet for this information, give it over the phone or ask if you can fax it (some places even prefer faxes). However, your book, get confirmation in writing and have a copy of it handy when you check in.
Be sure you understand the hotel's cancellation policy. Some places allow you to cancel without any kind of penalty—even if you prepaid to secure a discounted rate—if you cancel at least 24 hours in advance. Others require you to cancel a week in advance or penalize you the cost of one night.
Government Resort
The state-government-run tourism departments and the forestry department manage inexpensive accommodations throughout India. Most of these facilities are poorly maintained, and government employees and officials receive priority booking. Some states, including Rajasthan and Maharashtra, run fairly competent hotels—and some are in former palaces or other heritage buildings. For more information, contact the tourist office in the capital of the state you plan to visit.
Heritage Hotels
The Indian government has an excellent incentive program that encourages owners of traditional havelis (mansions), forts, and palaces to convert their properties into hotels or bring existing historic hotels up to government standards. (But do be careful where you stay, because "government standards" aren't always ideal for Westerners.) Many of these official heritage hotels—noted in reviews throughout this guide—are well outside large cities. Their architecture and style are authentically Indian, not Western. If this type of lodging appeals to you, contact one of the Indian tourist offices for more information. There are more than 60 such establishments in Rajasthan and a smattering elsewhere in India.
Hotels and Guest Houses
Hotels and guest houses are easy to find in most cities. Overall, they tend to be larger, more formal, and more expensive than guesthouses. The term guesthouse refers to small, independent budget digs that usually lack some of the standard hotel amenities (TVs and in-room telephones, for example). Especially popular with foreign backpackers, they often have fewer rooms than hotels and the owners tend to live on-site. Room service is available in most guesthouses, although meals are not generally included in the rates.
India's tourism department approves and classifies Indian hotels based on a rating system of five stars (the fanciest) to no stars (no frills). The ratings are based on the number of facilities and on hotel and bedroom size. Hotels without pools or those that serve only vegetarian food or that don't have a 24-hour restaurant—including some historic, charming, comfortable properties—don't qualify for five-star status but are often just as luxurious as those that do. The rating system also fails to take service and other important intangibles into account. Although these ratings can be misleading, tour operators often use them, so ask what a star rating means when booking.
If you opt for room service outside luxury Indian hotels, here are a few things to keep in mind: Tea or coffee usually comes premixed—ask to have a pot of tea or coffee with the milk, sugar, and tea bags or instant coffee brought separately. You can probably get food cooked according to your preferences, but you have to make the request. Ask for fruit juice without ice (you may or may not be successful in getting it without added sugar). Make sure any bottled water you plan to consume is sealed, and do not use water from pitchers in the room unless you are certain it's safe.