First Time Indian Train Travel Tips
---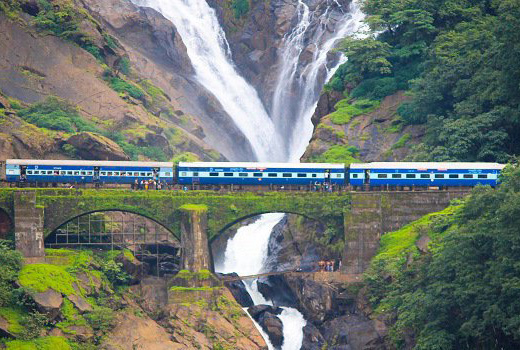 If you want to see the real India, then train travel is the best option. You cannot see the true colours of Indian culture in a plane above 35,000 feet but at the ground level. Experiencing the bustle of Indian railway stations with tea seller's announcements of Chai Garam completes the journey to the heart of the real India. Forget about the images of overcrowded suburban trains with people sitting on the roof of the trains. Express trains with AC Chair Car or Sleeper class have all seats reserved. It is a safe, civilised, inexpensive and comfortable mode of getting around in India. You can even cover long distances between major cities of India with trains linking Bombay to Delhi, Delhi to Varanasi, Delhi to Udaipur. It is time and cost efficient and moreover, an overnight journey would save you hotel bill as well. Go through these Indian train travel tips to make your journey more pleasant and memorable.
Check Your Reservation
After reserving your seat in the train, you can easily check your reservation on your ticket. Your ticket has the details of train, coach and berth number. Apart from this, reservation lists are also posted on the notice board at each station for each train. The lists show the name, age, sex of each passenger so that the inspector can ensure the right person is seated on the seat. The reservation list is also posted on the train next to the entrance door of each coach with details of that coach. You can also check your name in that list. The whole system is very easy and efficient, you can also ask your queries at the enquiry counter which is present at every station. Given below is the demonstration of reading the reservation list next to the entrance door on an express train-
Generally, coaches on long-distance express trains have numbers like this:
AC1: car H1, H2, and so on, where 1, 2 is the number of coaches of that class on the train.
AC2: car A1, A2, and so on.
AC3: car B1, B2, and so on.
AC chair car: car C1, C2, and so on.
Sleeper class: Cars S1, S2, and so on.
So if you booked an AC2 ticket you'd expect to be given a car number 'A1' or 'A2'.
Food And Drinks On Indian Trains
Indian Railways do not have buffet cars or restaurants onboard. But on long-route trains, there is food facility available where you can choose between veg and non-veg food. An attendant will approach you in your coach to take your order. Ask him to bring whatever you want to have from the available menu, after an hour or so, you will get your order in your coach. The food usually has some rice and curry in small foil containers, but it is not expensive. You can satisfy your hunger in mere £1-£2. Apart from this, you will also see attendants regularly passing down your car with soft drinks, snacks and excellent hot sweet Indian tea (garam chai). Some premiere Rajdhani Express trains (between Delhi and Bombay or Calcutta) and Shatabdi Express trains (between Delhi, Jaipur and Agra), includes the food in fare and you get your food at your seat.
Pre-order your food from a restaurant of your choice! If you are not comfortable with the onboard food facility, you can pre-order your food from a restaurant of your choice. There are several websites which take pre-orders from travellers and deliver food to their seats. After confirming your booking, log on to http://railrestro.com, enter your PNR, select the vendor and choose the items from their menu to get delivered to your seat at the station.
Cleanliness, Toilets & Crowding
The reservation system means that your seat is reserved throughout the journey and you can remove the pictures of overcrowded Indian trains from your mind. In long-route express trains with AC1, AC2, AC3 or AC Chair class, all passengers get their respective seats or sleeping berths. You should not expect western standards in Indian trains, but AC1, AC2, AC3 and AC Chair class are quite clean and satisfactory. The toilets have both, western style and squat seats with reasonable sanitary conditions. The sleeper class is more crowded than AC classes and sometimes unreserved passengers may enter the coaches. 2nd class unreserved coaches are more crowded and toilets in these coaches will leave in desires.
Security On Indian Trains
Indian trains are safe to travel, for families and solo women. There are very few chances to face any problem while travelling on an Indian train. But that doesn't mean that Indian trains are completely safe. Theft of luggage is rare but is possible with anyone. You just need to take some precautions for your luggage as well as for yourself to have the peace of mind while travelling on an Indian train. It is a good idea to carry a bicycle lock or medium-sized padlock to save your bags.
In sleeping cars, you can padlock your luggage with wire hoops hanging beneath the seats. Apart from luggage theft, pickpocketers also operate at major stations. You better take care of your pockets as well, try to avoid putting your wallets in your back pocket. Also, don't get tricked by any stranger telling you that your train is cancelled or the ticket office is closed or has moved to a travel agency down the road. Just ignore them even if they look official. These incidents are usually high in number with first-time travellers.
Recharging Mobiles, Cameras & Other Devices
Gadgets are the part of everyone's life these days, and if you are travelling, then these gadgets become more important. Most AC1/2/3 sleeper cars have sockets to charge mobiles and cameras. But the power sockets may not match with the plugs of your devices. We advise you to carry a power backup battery which can charge your devices several times.
Other Indian Train Tips
You should bring your own toilet paper. Indian trains usually have one western toilet and one squat toilet. In AC1, AC2, AC3 and AC Chair Class, the toilets are reasonably clean up to the standards and in full working condition. Sleeper class and 2nd class toilets are the different matter. Make sure to know the perfect time to visit India. India has different climates, in summer, it can be unbearably hot. In the monsoon, you would not like the rain to ruin your plans. January and February are very cold in northern India and sometimes there are major disruptions to road, rail and air due to heavy fog. Keep these points in mind before planning your memorable trip to India.