Private Leh Laddakh Tour
Covered Destinations:Leh -> Indus Valley Monastery Excursion -> Nubra -> Pangong Lake
Duration:05 Nights / 06 Days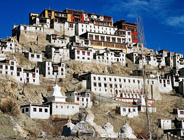 They call it "Little Tibet", not just because of its geographical proximity to Tibet, but also because it plays host to several Tibetan cultural festivals. Ladakh might be India's most remote region, but its beauty is incomparable. Stark mountains dotted with colourful gompas (monasteries), fluttering prayer flags, rocky ridges, dry plains and tiny settlements. And adding to its beauty is the Indus River that seems to have a different shade for every season. During summer it turns grayish, owing to its silt deposits, occasionally turning a shade of violet. Autumn turns it the most beautiful - shades of aquamarine waters flowing through orange-flamed poplars and weeping willows. Of course, the weather might at times play havoc with your plans, but really, the aura of this land would leave you awestruck. More than sheer tourism, the years have witnessed Ladakh emerging as a highly acclaimed adventure ground. From options of high-altitude scenic treks to wild river rafting in the Indus and Zanskar River, the last Shangri La's remoteness is what creates the magic that drives tourists here.
Tour Itinerary
Arrive Leh

Upon arrival at Leh Airport you will met by our Local Private Tour Guide and transfer to Hotel. Complete day for rest and leisure to acclimatize. In the evening visit local market of Leh & Shanti Stupa. Overnight at Hotel.

Arrive Indus Valley Monastery Excursion

Post Breakfast we proceed for Indus Valley Monastery tour including Shey, The ancient capital of Ladakh, Thiksey an impressive complex rising tier upon tier on a hill above the village, Stok Palace & Sindhu Ghat.

Packed Lunch will be provided or Hot Lunch at Kalden Home Stay in Stok. Overnight at Hotel.

Leh to Nubra valley (126 Kms / aprx. 06 hrs)

After an early breakfast we drive to NUBRA VALLEY leads through KHARDUNG-LA-PASS (the highest Motor able road in the world) at 18,390 ft, around 39kms from Leh. Nubra Valley is popularly known as valley of flowers.

It is situated to the North of Ladakh between the Karakoram and Ladakh ranges of the Himalayas. First visit SUMUR, another pretty village on the other side of the river'; SAMSTANLING GOMPA here was founded by Lama Tsultims Nima and Monastic community was introduced as Rezong Gonpa. Overnight at deluxe camp / hotel in Nubra.

Nubra Valley - Leh

After your breakfast at the camp, visit the SAND DUNES to enjoy a camel safari (Optional). Later we drive to Leh over Khardung La. Afternoon rest and relax or take a walk to the local market. Overnight at hotel.

Full day excursion to Pangong Lake(14,000 ft)

After an early breakfast we leave for Pangong Lake through Changla pass 5486 Mtrs. Pangong Lake, situated at 14,000 feet (4,267 m).

A long narrow basin of inland drainage, hardly six to seven kilometer at its widest point and over 130km long, it is bisected by the international border between India and China. A few years back the government decided to open it to tourists though the lake and its surrounding is under army surveillance. After spending some time at Pangong we drive back to Leh. Overnight in hotel.

Departure Leh

Early morning transfer to Domestic Airport of Leh to catch the flight for your onward Destination
---
Climate
Summer: June-September, Intensive sunlight that can cause severe sunburn, strong and dry winds Temperatures - 20°C - 25°C.
Monsoons: Ladakh is a high altitude desert since the Himalayas create a rain shadow, thus denying entry to the monsoon clouds. The main source of water is the snowfall on the mountains.
Winter: October-May, Extreme climates, frost-bites are extremely common. This low temperature is accompanied by heavy snowfall that virtually cuts it off from the rest of the country Temperatures - 2°C- -15°C.
Local Languages:
The local language of the area is Ladhaki (a Tibetan dialect) and Pahari. If you learn one word, make it jule (pronounced joo-lay), which could mean 'hello', 'goodbye', 'please', and 'thank you'! Hindi and English are also understood.
Best Time to Visit
Plan your trip between the summer months of early June - end September, before it starts snowing. Another reason to visit Ladakh during the summer months would be the several annual festivals organized by the Buddhist monasteries that render vibrancy to this otherwise bleak location.
Clothing
Cotton and light woolen during summer and heavy woolens including down-filled wind proof jackets in winter. Stock your baggage with thick socks, gloves, scarves and sturdy boots. Carry ample supply of sunscreen, lip balms and goggles.
Moving Around
Bus is the cheapest mode of transport no doubt, though hired taxis are the best way of exploring this area. For visiting the newly opened areas of Nubra, Dah-Hanu, Tsomoriri, Tsokar and Pangong Lakes, it is advisable to engage the services of a registered travel agency for making all required arrangements.
Permits
You would require permits and special permissions to visit the Inerr Line areas of the Nubra Valley, Pangong-Tso, Tso-Moriri and the Dha-Hanu Valley. These are easily available for one-week with a single application made at the Collector's Office in Leh. Carry a number of photocopies of the permit, since these would have to be deposited at every check point en route.
Acclimatisation
You would probably feel ill-at-ease for a day or two. This is normal till you get used to the sudden dip in the oxygen level. So take it easy for a couple of days. Rest well, drink a lot of water and avoid alcohol. In case the symptoms persist or get worse, consult a doctor immediately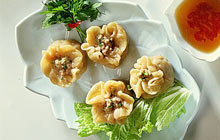 Gourmet Feasts
Leh has several restaurants, cafes and bakeries that offer a range of cuisine, from Real Tibetan to European, Continental and Kashmiri. Most of the restaurants are open air and full of people throughout the day. The highly sought after Tibetan Food can be found at Himalaya Cafe or Dreamland Restaurant. It includes the traditional staple Tsampa, Yak Butter, Boiled Beef & Mutton, Momos, Noodle Soup, Thukpa and Tibetan Barley Wine. A trendy and busy Tibetan joint is The Wok Tibetan Kitchen located in the Main Bazaar. For Korean cuisine visit Shangri La, and for Kashmiri Budshah Inn is a must try.
A cool range of Continental and Mughlai cuisine can be found at Summer Harvest or Hotel Ibex, which serves everything from biryanis to sandwiches! Steamed Stuffed Dumplings accompanied by a fiery chili sauce is a sure way to beat the cold. An old favorite joint is Norlakh Restaurant, which serves tasty and inexpensive Tibetan dishes, including momos and a range of fine noodle dishes. The restaurant is located on the Main Bazaar Road and offers good views of the Soma Gompa. Indian vegetarian food is available at Lamayuru Restaurant on Fort Road - the curry sauces are absolutely heavenly! Try out the Pumpernickel German Bakery at Zangsty Road for some yummy brownies, bread varieties and yak cheese and Penguin Cafe offers pasta, ginger and lemon tea and banana pancakes. A must have a carry-home is the locally made Apricot jam.
Festive Celebrations
The most important festival is the 2-day Hemis Festival take takes place at the Hemis Monastery. Celebrated to commemorate the birth of Guru Padmasambhava (founder of Tibetan Buddhism). Once every 12 years, the Monastery hosts the ritual unfurling of a giant Thangka (Buddhist religious mural) depicting Padmasambhava, which is richly embroidered with pearls and semi-precious stones. The highlight of the festival are the masked dances, called chhams performed by the lamas dressed in bright robes and elaborate head-gear, to the accompaniment of cymbals, drums and long horns. A special highlight of this festival is the exquisite handicrafts display. These 'devil dances' depict the victory of good over evil and are marked by the consumption of bowls of chang, Ladakh's country liquor.
Celebrated in September, Ladakh Festival is organised by the Jammu and Kashmir Tourism. It is one of the best times to enjoy this cultural extravaganza, and is marked by folk dances, polo and archery and exotic display of art and handicrafts exhibits. Dosmoche Festival or the Festival of the Scapegoat, it is celebrated in late February. During this a great wooden mast is erected and dough figures are cast into the desert. These scapegoats carry away with them the evil spirits of the old year, and thus the town is cleansed and made ready to welcome the New Year.
Losar Festival is celebrated in December or January, and is a spectacular event that heralds the Ladakhi/Tibetan New Year. Running well over 2 weeks, the festival holds ancient rituals, the dance of the Ibex deer, stage fights, chanting and passing through the crowds with fire torches.
What to See?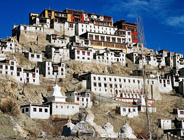 Leh: Capital of Ladakh, Leh the centre of Ladakh. It is picturesquely bound by snow-laden peaks of the Himalayas and numerous monasteries. Adding to its charm is the numerous roadside restaurants, cafes, local shops selling curios and several trekking and rafting options. In fact Leh could be your base for exploring the rest of the areas. Ideally, you should take a couple of days easy in Leh, till your body gets used to the dip in oxygen. The 16th-century Leh Palace overlooking the town's lanes and markets is its most recognized attraction. This nine-storey Tibetan construction was once home to the royal family (who still own it). Within you would find walls decorated by old Buddha paintings, buttresses and jutting wooden balconies. A part of the palace has been converted to a museum and has on display thangkas, paintings and arms. The central prayer room usually remains closed and has religious texts lining the wall. Since the palace interiors are more or less dark, remember to carry a flashlight for better visibility.
Open from: Summer - 7.00 am-9.30 am; occasionally open from 3.00pm - 6.00pm
Entry fee: Indians - Rs 5; Non-Indians - Rs 100
Namgyal Tsemo Gompa: Constructed in 1430, this gompa has a rich collection of Buddhist art, ancient manuscripts, painted scrolls and wall paintings. Its special feature is the gilded image of Buddha, almost 3-storyes high. A little ahead of the monastery is a fort that allows you panoramic views of the Leh town.
Open from: 7.00 am-9.00 am from prayers;
Entry free
Jami Masjid: Located in the Main Bazaar area, this green and white mosque exhibits a striking combination of Turko-Iranian architecture and was built in the 17th-century. Note that women are not within.
Hemis Gompa: Defintely the largest monastery in Ladakh, this is located 45 kms from Leh. It was built by the Red Hat sect of Buddhism and the walls are adorned with beautiful frescoes and the largest Thangka painting in the world depicting Guru Padmasambhava, which is over 12 m in length. It also houses a statue of the Sakyamuni Buddha made of precious stones. It is the site of the famous Hemis Festival, which is marked by lamas rejoicing by way of chaams or masked dances. The festival also includes a vibrant bazaar where craftsmen sell handcrafted items.
Open from: 7.00 am - 7.00 pm
Entry fee: Rs 15 - 20
Shanti Stupa: A new addition to the landscape, the Shanti Stupa is a pristine white structure built by the Japanese Buddhist organization to commemorate 2500 years of Buddhism. It was inaugurated by His Holiness the Dalai Lama in 1985. You can walk up to it by a flight of stairs or take a 3km drive from the Fort Road.
Open from: 5.00 am - 9.00 pm;
Entry free
Sankar Gompa: 2 km north of the city center, this houses the monks of the Gelukpa or Yellow Hat sect. It has a grand image of Avalokiteshvara (the Buddhist deity of compassion) created in turquoise, and depicted with 1000 arms and 11 heads. Also within is the wheel-of-life, held by Yama and paintings of various Buddhas with guardian divinities.
Open from: 7.00 am - 10.00 am; 5.00 pm - 7.00 pm;
Entry free
Stok Palace: Overlooking barley terraces on the mountains, the Stok Palace stands four storeys tall and is the official residence of the royal family. Out of the 77-rooms in the palace, only one wing has been made open to the public as a museum. On display are collections of Buddhist art, weapons, jewelry, artifacts and thangkas painted with colors from crushed precious stones. Also watch the ceremonial headdresses or peraks of the earlier rules of Ladakh, decorated with turquoise, lapis lazuli, coral and gold.
Open from: 7.00 am-7.00 pm
Entry fee: Rs 25
Lamayuru Monastery: This is located on a high rocky projection, over a valley and the Lamayuru Village. The monastery has several Thangka paintings on display in its main hall. It is also the site of the annual festival of Lamayuru Monastery.
Shey Monastery: Situated on a hillock, Shey Gompa was earlier the summer palace of the Ladakhi kings. It has within a 12 m tall gold-plated copper statue of Sakyamuni Buddha and celebrates its annual festival on the 30th day of the 1st month of the Tibetan Buddhist calendar.
Thiksey Monastery: This monastery is located a little away from Shey Monastery and has several statues of Buddha, a pillar inscribed with Buddhist teachings, a 15 m high seated Maitreya Buddha in the main prayer hall and a vast collection of Buddhist art. Its annual festival is held from the 17th to 19th day of the 12th month of the Tibetan Buddhist calendar.
Open from: 7.00 am-7.00 pm
Entry fee: Rs 15 - 20
Alchi Gompa: The Gompa is located on the bank of the River Indus and is the only gompa in Ladakh which is located on flat terrain. Showcasing a Kashmiri influence in its art and architecture, the monastery has within it beautiful images of Buddha and remarkable murals. Photography is not permitted within the Alchi Monastery. Carry a flashlight to explore the interiors, since electric lights are not permitted, for fear of damaging the paintings.
Open from: 7.00 am-7.00 pm
Entry fee: Rs 15 - 20
Likir Monastery: Also called the Klu-Kkhjil or Water Spirits gompa, it is situated 52 km from Leh. It was constructed over a Gompa that was burnt down in the 15th century and today houses the monks of the Gyalukpa sect. The monastery has a rich collection of paintings, robes and artifacts.
Spituk Monastery: Perched on a high hill overlooking the Indus River, the Spituk Monastery is known for its collection of Buddhist. These imposing statues are only displayed to the public during the Gu-Stor Festival in January. Further up is the Mahakal Temple where the image of Vajrabhairava is unveiled once a year at its annual festival.
Chamba Temple: Not easily reachable, the Chamba Temple is bounded by old medieval mansions and is a one-room shrine. It houses a magnanimous image of Maitreya Buddha and old wall paintings.
Leh Fort: Built by Zorawar Singh, the Zorawar Fort contains three temples but is not open for public since it is located in the military camp area.
The Ecology Centre: Located north of the main bazaar, the Ecology centre is headquarter of LEDeG (the Ladakh Ecological Development Group), that aims to counter the negative impact of western culture by fostering economic independence and respect for traditional culture. The garden in front hosts an open-air exhibition of solar gadgets, hydraulic pumps, water mills and other ingenious energy saving devices that have proved successful throughout Ladakh. You can also browse through the library, a handicraft shop that sells locally made clothes, Thangkas, T-shirts, books and postcards
Open from: 10.00 am - 5.00 pm (Monday-Saturday)
Khardung La Pass & Nubra Valley: Entry to the Nubra Valley, Khardung La (Pass), at more than 17,000 feet, is among the highest motorable roads in the world. There is a military base where permits are checked for those crossing into Nubra Valley. Also located here are a couple of simple tea shops. The pass is accessible to one-way traffic - from Leh to Nubra in the morning and vice versa in the afternoon. Literally meaning Valley of Flowers, the valley is located at about 10,000 ft. The prime attraction in this area is Bactrian Camels (double hump camels) and the Deskit & Samstanling monasteries.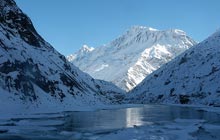 Zanskar Valley: One of the coldest inhabited places, Zanskar is best explored on a vehicle, since only a handful of monasteries can be accessed from the single road. Padum was once the capital of Zanskarand today is the headquarters of the Zanskar region. This small township is located on the side of a hillock and has ruins of the erstwhile palace and fort. Ancient rock carvings can also be seen at the river bank. Karsha, is the largest and opulent of all monasteries here. Housing a rich collection of Himalayan art, its highlights include 500-year old frescoes and the chamber where teaching is conducted. Stongdey Monastery is home to the Gon Khang or the temple of guardian deities. At Burdan, you can view the assembly hall of the monastery that houses idols and stupas created in clay, bronze, copper and wood. Phugtal and Zongkhul are two rare caves, with the former housing a few temples. In addition, the Zanskar Lake offers good avenues for river rafting.
Tso Moriri Lake: This is a saltwater lake located at about 13,000 feet. Bounded by mountains, this lake is famous for its profusion of wildlife, including migratory birds, marmots and Tibetan wolves. Note: the area around Tso Moriri Lake has suffered environmental degradation due to increasing tourists. For this reason, choose a tour operator who would be environmentally conscious and make least impact when visiting.
Getting There
Air: Leh Airport is connected to Delhi, Chandigarh, Srinagar and Jammu by regular flights. A word of caution though - the frequently changing weather conditions here often result in flights getting delayed or cancelled. So do verify details before you travel.
Rail: Jammu, at 690 kms is the nearest railhead from Leh. It is connected to all major stations by regular trains.
Road: Ladakh is connected to Delhi by two routes - via Srinagar-Zoji La Pass, and via Manali-Rohtang Pass. The second route is accessible only between July and September. The Zoji La Pass is open for a little longer time, from June to October. The drive, though beautiful, is long. Make sure you are well protected against the wind. Remember, altitude sickness might force you back, since the only sure shot remedy is descent.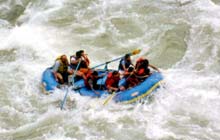 Trivia
Between end-June and early August, the Indus River is the place for river-rafting, especially by first-timers. The first option is relatively easy and lasts for 3 hours from Hemis to Choglamsar Bridge, which is just a 15-min drive from Leh.
The second option is more thrilling and begins at Phey (near Spituk Monastery) and terminates at Nimoo, just after the confluence of Indus with Zanskar River. This stretch is relatively swift on Grade 2 and 3 rapids, passing through a splendid gorge. You could plan this trip when visiting Alchi and camp overnight at the Uleytokpo Camp.